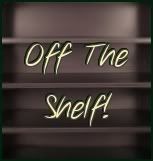 As I mentioned yesterday, I completed the Off the Shelves Challenge, reading 50 books that had been languishing on my shelves. Yay! About 12 of them were or will be sold (which was part of the point of the challenge for me) but overall they really exceeded my expectations: my average rating for the list on Goodreads was 3.9 out of 5 stars. That also made it hard to pick favorites, but here are my 2011 Off the Shelf awards:
Best General Fiction:
To Say Nothing of the Dog - Willis
The Secret History - Tartt
Cat's Eye - Atwood
Best YA:
The Replacement - Yovanoff
Zombies vs Unicorns - Black and Larbelestier
Sapphique - Fisher
Honorable mention to all three of the John Green books
Best Middle Grade:
A Tale Dark and Grimm - Gidwitz
(It gets 1st, 2nd, and 3rd place because it was so much better than the others)

Best Dystopian:
The Year of the Flood - Atwood
The Children of Men - James
Sapphique - Fisher

Best Non-fiction:
Ordinary Men - Browning
Reading Lolita in Tehran - Nafisi
The Lucifer Effect - Zimbardo

Most Exceeded My Expectations:
Hula - Shea
The Wishing Box - Slater
Everything is Illuminated - Foer
The full 2011 list is under the Reading tab
, near the bottom of that page.
And at the top of that page is... a brand new list for 2012. That's right - I own enough unread books to do the challenge all over again.
*hangs head*
Except that this time around,
I'm moving up a level from On a Roll (50) to Flying Off (75). Yikes! I actually really liked the 50 book level and would recommend it to others; it's a significant challenge but a convenient one to schedule: read one book per week and you'll complete it with a little time to spare. I'm not sure what's possessing me to move up to the 75 book level, other than the fact that (1) it's embarrassing how many unread books I still own after reading 50 and (2) according to Goodreads I actually read 84 books this year (that's a lot of cheating on my OTS list. Oops.) so I have no excuse.
Hopefully the list I came up with will be challenging but not impossible.
I have a few brick size books on it (Bryson thinks he's all cute calling his 500 page hardback At Home "A Short History," and Stephen King, well, we know what he's like) but they're authors I love, so I trust their books will move quickly...certainly more quickly than some of the grad school leftovers I put on there. If you're trying to figure out how difficult to make your own list, definitely think about book speed alongside book length.
So, anyone else with overflowing bookshelves want to join Madeline and me? You can sign up over here and choose any level, from Tempted (5) to Buried (126+). Get those dusty books off the shelf!